WARREN COUNTY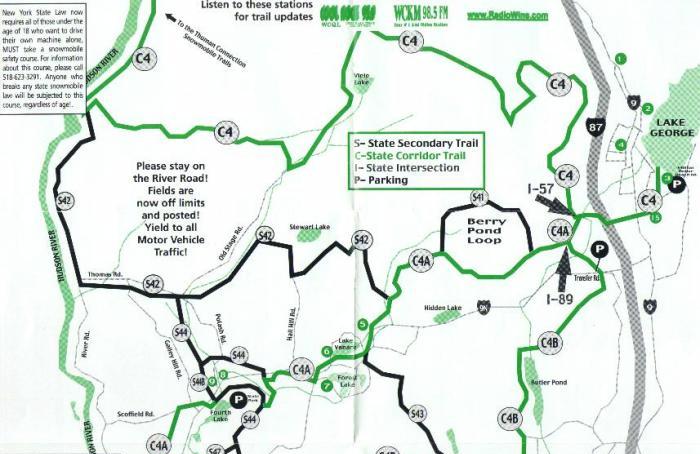 Bolton Quadrangle
From Rt. 9N south of the village of Hague proceed westerly on the Split Rick Rd. approximately 1.8 miles to Jabe Pond access road. This road is a snowmobile trail for its entire length terminating at Jabe Pond and being approximately one mile in length.
Lake Luzerne Quadrangle
From the village of Stony Creek proceed westerly about 2 1/2 miles on the Lens Lake Rd. to an intersection. Turn left and continue in a southwesterly direction along Fodder Brook. This road becomes a snowmobile trail when it reaches State Land. The trail is about four miles long and ends at Hadley Hill Rd. in Saratoga County. From Hadley Fire Tower Rd. northerly to Waite Rd., 3 miles. Portions of the trail cross private land where owners permission may be required.
North Creek Quadrangle
From Rt. 8 in the Village of Riparius proceed south about 1 1/2 miles on a road paralleling the east siee of the Huson River. From here a snowmobile trail continues south about two miles where it enters State Lands.
From Loon Lake proceed about two miles west on Rt. 8 and turn south on a dirt road which leads to Palmer Pond. There are about two miles of snowmobile trail just west of the pond. From Thurman proceed about 1 1/2 miles westerly to an intersection, make a left turn and proceed south about 1/2 mile to another intersection, then turn right and proceed westerly for about 2 1/2 miles to where a narrow road departs in a southerly direction. From this point it is approximately 1 3/4 miles to Round Pond of which about 1 1/4 miles are marked as a snowmobile trail. In order to use this trail it is necessry to cross private property for which permission may be required. From Round Pond, trail extends westerly two miles to Garnet Lake.

Snowmobiling Information Center

Adirondacks.com assumes no liability or responsibility for trail conditions or the use of these maps.
Please consult the New York State DEC for updated trail descriptions and conditions.