Let us help you choose the perfect Adirondack hideaway for your vacation!

Whether it's a secluded 2 room waterfront cabin miles from nowhere or a spacious 6 bedroom home in the heart of Lake Placid, we offer the best of both worlds!

View pictures and information on tons of fantastic Adirondack vacation rentals!

click here
Click here for a topo map of the Adirondack High Peaks
and surrounding areas!


THIS MONTHS VACATION RENTAL SHOWCASE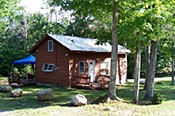 Old Forge Vacation Rental -
Old Forge, NY - Herkimer County
Phone: (607) 797-5415
email: ofnycabin@yahoo.com
Tall pines surround this charming cabin that is situated on a large corner lot. This recently renovated cabin has all the conveniences of home with an Adirondack flair. Located just 3 miles from downtown you are close enough to enjoy the local amenities but

remote enough to get away from it all at the end of the day. The shared sandy beach with boat launch is located 1/4 mile down the road and is a great place to spend an afternoon.. Hike, bike or horseback ride through scenic trails. Canoe or kayak the beautiful rivers and lakes. The fall foliage is the best around and enjoy the winter season with a visit to McCauley Mountain or snowmobile from the front yard to miles of groomed trails then return home to the warmth of a fireplace. Sleeps 6 max. Please, check the website for pricing information.
To preview hundreds of Adirondack vacation rentals throughout the region - please click on the location by county or city below.

Plattsburgh, Chazy,Altona, Ausable, Beekmantown, Black Brook, Champlain, Clinton, Dannemora, Ellenburg, Mooers, Peru, Saranac, Schuyler Falls


Old Forge, Big Moose
Columbia, Danube, Fairfield, Frankfort, German, Flatts, Herkimer, Litchfield, Little Falls, Manheim,Newport , Norway, Ohio, Russia, Salisbury, Schuyler, Stark, Warren, Webb/ Wilmurt, Winfield Village of Ilion


Lake Placid, Keene,Chesterfield , Crown Point, Elizabethtown, Jay, Keene, Keene Valley, Keeseville,, Lewis, Minerva, Mineville-Witherbee Moriah, Newcomb, North Elba, North Hudson, Port Henry, Saranac Lake , Schroon, St. Armand, Ticonderoga, Ticonderoga Upper Jay, Westport , Willsboro, Wilmington, Whiteface


Lowville, Harrisville, Beaver Falls, Boonville, Brantingham, Carthage, Castorland, Constableville, Copenhagen, Croghan, Deer River, Denmark, Diana, Glenfield, Greig, Harrisburg, Lewis, Leyden, Lyons Falls, Lyonsdale, Martinsburg, Montague, Natural Bridge, New Bremen, Osceola, Pinckney, Port Leyden, Taberg, Turin, Watson, West Leyden, West Turin


Saranac Lake, Tupper Lake, Alburg, Alder Brook, Axton Landing, Bangor, Bombay, Brainardsville, Burke Center, Chateaugay, Constable, Cooks Mill, Coreys, Dickinson Center, Duane, Fort Covington, Franklin Falls, Gabriels, Harrietstown, Hogansburg, Keese Mill, Lake Clear, Loon Lake, Malone, McColloms , Moira, North Burke, Onchiota,, Paul Smiths, Saint Regis Falls, Santa Clara, Saranac Inn, Saranac Lake, Trout River, Vermontville, Wawbeek,


Lake George, North Creek, Bolton, Chester, Glens Falls, Hague, Horicon, Johnsburg, Lake Luzerne, Queensbury, Stony Creek, Thurman, Warrensburg, West Glens Falls


Raquette Lake, Indian Lake, Raquette Lake, Blue Mountain Lake , Arietta, Benson, Hope, Inlet, Lake Pleasant, Lake Pleasant, Long Lake, Morehouse, Speculator, Wells


Cranberry Lake, Potsdam, Cranberry Lake, Potsdam Ogdensburg, Canton ,Edwards, Gouverneur, Hammond , Hermon, Heuvelton, Massena, Morristown , Norwood, Potsdam, Rensselaer Falls, Richville,Waddington


Oneida County




Glens Falls


Saratoga Springs

Snow Birds- Fly South!
If you love vacationing in the cool Adirondack mountains in the summer, you're going to love finding a vacation rental in warm, sunny Florida in the winter. We invite you to view beautiful oceanfront homes & vacation condos throughout Florida.


Florida Vacation Rental Directory.com
click here Affordable Florida Vacation Rentals - quality vacation homes, villas and condos available weekly and short term. Enjoy private pools, waterfront, beachfront & estate homes. Search by date, price, location. Pictures & full descriptions! click here





Beautiful 'four seasons' waterfront compound ideal for family reunions, weddings, snow mobile groups & corporate retreats!



Remarkable setting on one of the most beautiful lakes
in the Adirondacks!
Perfect for large groups up to 40 people!

Attention Snow Mobilers
Book your reservations now for the upcoming winter season!
This facility is ideal for large or small snowmobile clubs & groups. Located directly on a main Adirondack snowmobile route connecting to hundreds of miles of snowmobile trails throughout Upstate New York.
click here

ONLINE VISITOR & RELOCATION GUIDE


Click here to get valuable resources and tools to help you relocate, buy a home, find a great loan & much more!



43 Broadway
Saranac Lake, New York 12983
Phone: 518-891-3745 Fax: 518-891-3768
E-Mail: Adirondacks.com
This website is owned and operated by
adirondacks.com internet publishing group.
For advertising and editorial content,
please contact Rob Grant;
adirondacks.com reserves the right to reject,
modify or cancel any advertising at its sole discretion.
© Adirondacks.com - all rights reserved