SNOWMOBILE TRAILS IN NEW YORK STATE
New York State has designated carefully surveyed trails within the State Forest Preserve, State Parks for snowmobile use. As sportsmen, it is important that snowmobilers recognize their responsibility for preserving the wildness and beauty of the land their vehicles enable them to enjoy.
The following trail information has been generously furnished by the New York State Department of Environmental Conservation, in conjunction with the St. Lawrence County Forestry Department and the St. Lawrence County Youth Bureau.
Please refer to "Snowmobiling in New York State", published by DEC, for specific laws and regulations governing the use of snowmobiles on state land.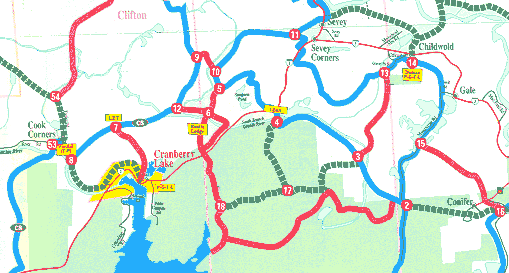 St. Lawrence County
Stark Quadrangle
Starting from Pierrepont proceed south on a secondary road to a point about one mile north of Gleason Mills. From here an old town road extends to the southwest. About 3 1/2 miles down this road it crosses a section of State land about 1/2 mile long which is marked as a snowmobile trail.
Brasher Falls
The Brasher Falls Trail System is 57 miles in length and is located ion the Town of Brasher. It lies primarily on Brasher State Forest managed by the NY State DEC. The snowmobile trail system may be entered at several different locations. The first location is Meyers Rd. off Brasher Center Rd. just north of Brasher Center. Meyers Rd. is a town road. Another location is the easterly end of Meyers Rd. at County Rt. 55. The system may also be entered at the McCarthy Rd.
Carry Falls to State Boundary Vicinity
Bear Brook Trail
The Bear Brook Trail is located in the Towns of Colton and Hopkinton. The 1.4 miles of trail uses State Forest Preserve land and continues on the Lassiter easement lands. The trail leaves Carry Falls Reservoir in the vicinity of Little Cold Brook and proceeds southerly and easterly across the Jordan Burn to the town line. The recent acquisition of lands and conservation easements allow snowmobile travel on many miles of roads. These have not been posted at this time. Interested persons should check with the New York State Department of Environmental Conservation. To reach the trail turn north from State Rt. 3 onto State Rt. 56. Approximately 4 miles down the road take a right turn onto Hollywood Rd. This road will dead end where the reservoir begins.
Route 56 to Private Land (Hollywood Club)
The 2.4 mile trail leaves State Rt. 56 two miles north of Sevey's Corners and proceeds westerly along an old town road. The trail ends at private land.
Leonard Pond Spur
This .2 mile trail leads from the Hollywood Club Rd. northerly to Leonard Pond.


Snowmobiling Information Center

Adirondacks.com assumes no liability or responsibility for trail conditions or the use of these maps.
Please consult the New York State DEC for updated trail descriptions and conditions.