---

The premier online guide to New York real estate and vacation rentals throughout Upstate New York.


Saranac Lake Real Estate
Take a virtual tour of Saranac Lake & the Adirondacks & enjoy full color photos of hundreds of beautiful waterfront camps & vacation homes for rent and for sale throughout the North Country...All with the simple click of your mouse! Access the Multiple Listing Service to preview every property for sale in the Saranac Lake area &the Northern Adirondacks. Looking for a vacation rental? Saranac Lake Real Estate also offers one of the regions largest vacation rental sites featuring Adirondack Great Camps, waterfront homes, ski chalets, log cabins & hundreds of vacation retreats. Saranac Lake Real Estate .com & Rob Grant & Associates is proud to be one of the largest & most respected Realtors in the Adirondacks!
click here
for Saranac Lake Real Estate

Adirondack
Real Estate

click here
www.Adirondack Real Estate.com
click here

Adirondack Real Estate.com is a unique showcase for Adirondack Great Camps, Adirondack Vacation Rentals, Adirondack mountain ski chalets, Adirondack log cabins, Adirondack fishing and hunting camps, Adirondack waterfront properties, charming country inns, B&B's as well as unique vacation rental properties throughout Upstate New York.
Adirondack Rentals.com

click here
Enjoy your visit!!
---

Chasolen joins Rob Grant & Associates staff
SARANAC LAKE — Rob Grant & Associates, Real Estate, recently announced that Ruth Chasolen has joined its staff as a real estate sales agent. Grant said he was especially pleased that Chasolen came with a broad background in sales. click here for entire bio

---
To view hundreds of local listings for Catskills Real Estate or Hudson Valley Real Estate click on the links below!



click here
www.HudsonValleyRealEstate.com

Hudson Valley Real Estate.com & Catskills Real Estate .com - invite you to take a virtual tour of some of the most spectacular properties and homes currently for sale in the Hudson Valley and Catskills Region of Upstate New York. These web sites are a unique showcase for Hudson Valley homes throughout the Hudson Valley and Catskills real estate, including charming country inns, B&B's, vacation homes, lakefront camps and magnificent estates.



click here
www.CatskillsRealEstate.com



Lake Placid Real Estate

Lake Placid is New York's Olympic Region offering year-round entertainment for the entire family. The Lake Placid Region is famous for hosting the 1932 and 1980 Winter Olympics. Lake Placid has also been host for a variety of world class events including the World Cup bobsled and luge, the Ironman Triathalon, international figure skating, Empire State Games and the "I Love NY" Horse Shows. The Lake Placid region offers visitors a rich variety of historic, artistic and cultural attractions.
click here for Lake Placid Real Estate


New York Real Estate Schools .org
Courses offered provide the fast, convenient, easy way to satisfy your real estate education requirements.
Whether you need a prelicense course to get your real estate salesperson's license, a post-license course, a broker's prelicense course, or continuing education courses to renew your license, you can get it all right here! Get state-approved Continuing Education credits to renew your real estate license or expand your expertise. Our sales, broker, appraisal, home inspection, mortgage and continuing education courses are in full accordance with regulations of NY Department of State, Division of licensing services.
click here for more information
Snow Birds- Fly South!

If you love vacationing in the cool Adirondack mountains in the summer, you're going to love finding a vacation rental in warm, sunny Florida in the winter. We invite you to view beautiful oceanfront homes & vacation condos throughout Florida.
Florida Vacation Rental Directory.com
click here
Affordable Florida Vacation Rentals - quality vacation homes, villas and condos available weekly and short term. Enjoy private pools, waterfront, beachfront & estate homes.
Search by date, price, location. Pictures & full descriptions!
click here

Pre Fab Homes
Save thousands building your own home!

Pre Fab Homes
Save thousands building your own home! Find prefabricated, manufactured, home kits & modular homes in your area. Dealer listings nationwide.
click here

Adirondack Energy Efficient Houses


Elements of an Energy Efficient House
Designing and building an energy-efficient home that conforms to the many considerations faced by home builders can be a challenge. However, any house style can be made to require relatively minimal amounts of energy to heat and cool, and be comfortable and healthy. All energy efficient homes have the following elements:a high R-value, tightly sealed thermal envelope; controlled ventilation; and lower than usual heating and cooling bills.
Some designs are more expensive to build than others, but none of them need to be extremely expensive to construct. Recent technological improvements in building elements and construction techniques, and heating, ventilation, and cooling systems, allow most modern energy saving ideas to be seamlessly integrated into any type of house design without sacrificing comfort, health, or aesthetics.

EnergyEfficientHouses.org
Energy Star qualified products help protect the environment and save you money. Shop for water heaters, windows and other products for your home. click here


To select a category, please click on the buttons below.

---
GET AHEAD IN LIFE!
CONTINUE YOUR EDUCATION!
ONLINE VISITOR & RELOCATION GUIDE
Click here to get valuable resources and tools to help you relocate, buy a home, find a great loan & much more!

Relocating to New York State?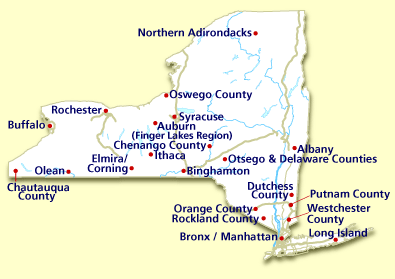 To request a free relocation kit for any Region in New York State including the Adirondacks, Capitol-Saratoga Region, Catskills, Central New York- Leatherstocking Region, Chautagu-Allegheny, Finger Lakes, Hudson Valley, Long Island, New York City, Niagara Frontier and the Thousand Islands as well as the major cities listed below just fill out our simple relocation form!

"Tired of looking at that old car or boat sitting in your back yard! Now you can donate it to your favorite charity and receive a valuable tax deduction! All with one simple click!"
Donate Your Used Vehicle to Charity!
Donate your used car, boat, motorcycle, van or RV to your

favorite charity & receive full fair market value as a tax deduction!
Click here to learn more and search for your favorite charity!
Free nationwide pickup and no complicated paperwork.
It's fast and easy. All vehicles accepted.
Search and choose from hundreds of religious institutions, schools, and charitable organizations including cancer research, multiple sclerosis and heart disease.

Visit

Christmas Wreath.com

Search and compare the lowest prices for fresh balsam wreaths & hand crafted gifts from all over the country!

Free shipping & toll free ordering!

Click here

Visit

Cheap Gift Baskets.com

Treat that special person to a lovely gift basket for any occasion! Get the lowest prices on the web and search a huge selection of

gourmet gift baskets with cheese, wine & chocolate! Find corporate gifts, flowers, get well gift baskets, and much more!

Enjoy toll free ordering & free shipping!

Click here


To receive relocation information for any of the cities listed below please call (518) 891-3745 or fill out our simple real estate relocation form

Adirondack Real Estate, AlbanyReal Estate, AmityvilleReal Estate, AuburnReal Estate, BataviaReal Estate, BinghamtonReal Estate, BrewsterReal Estate, BronxReal Estate, Bronxville Real Estate, Brooklyn Real Estate, Brookville Real Estate, Buffalo Real Estate, Catskills Real Estate, Chappaqua Real Estate, Corning Real Estate, Ellenville Real Estate, Elmira Real Estate, Garrison Real Estate, Geneva Real Estate, Glens Falls Real Estate, Haverstraw Real Estate, Hudson Real Estate, Hudson Valley Real Estate, Ithaca Real Estate, Jamestown Real Estate, Kiamesha Real Estate, Kingston Real Estate, Lake Placid Real Estate, LibertyReal Estate, Lockport Real Estate, Long Island Real Estate, Mahopac Real Estate, Manhattan Real Estate, Massena Real Estate, Middletown Real Estate, Monticello Real Estate, Mount Kisco Real Estate, Newburgh Real Estate, New City Real Estate, New Rochelle Real Estate, Niagara Falls Real Estate, North Babylon Real Estate, Nyack Real Estate, Oneida Real Estate, Oneonta Real Estate, Ossining Real Estate, Oswego Real Estate, Peekskill Real Estate, Plattsburgh Real Estate, Port Chester Real Estate, Potsdam Real Estate, Poughkeepsie Real Estate, Queens Real Estate, Rochester Real Estate, Saranac Lake Real Estate, Saratoga Springs Real Estate, Scarsdale Real Estate, Schenectady Real Estate, Spring Valley Real Estate, Staten Island Real Estate, Suffern Real Estate, Syracuse Real Estate, Tarrytown Real Estate, Tonawanda Real Estate, Troy Real Estate, Tupper Lake Real Estate, Utica Real Estate, Watertown Real Estate, White PlainsReal Estate, Woodstock Real Estate, Yonkers Real Estate
---