DAVIDSON BROTHERS REST/BREWERY 184 GLEN STREET GLENS FALLS, NY 12801 518-743-9026 Sandwiches, Wraps, Pubfare. Brewpub Fresh Ales. Lunch & Dinner. Open YR. Website: http://www.sayipa.com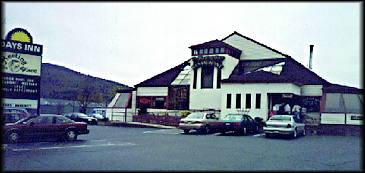 THE MEETING PLACE RESTAURANT
Route 9 Exit 20 Lake George, New York 12845 (518) 792-9565 Planning a party or special event? Consider The Meeting Place Restaurant or our Private Banquet Facilities (located right behind our restaurant). We have affordable packages that can accommodate your group whether it be 5 or 150.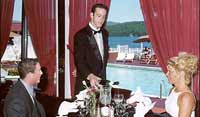 GEORGIAN Rest. & Supper Club
384 CANADA ST LAKE GEORGE NY 12845 518-668-5401 American Cuisine. Full Menu. Lunch & Dinner. Open May-October.


BARNSIDER SMOKEHOUSE REST
10 MOUNTAIN VIEW LANE LAKE GEORGE, NY 12845 518-668-5268 Smoked Ribs & Chicken; Steak & Seafood. Lunch & Dinner. May 1- Col. Day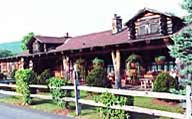 LOG JAM RESTAURANT
1484 STATE ROUTE 9 SITE 1 LAKE GEORGE NY 12845 518-798-1155 Prime Rib, Seafood; Attentive Service. Lunch & Dinner. Open YR. Whether you're visiting the Lake George - Saratoga region - or you live here all the time - The Log Jam Restaurant takes pride both in the beauty of the Adirondacks and in providing you with superb food and accommodating hospitality in an authentic log cabin.








ANTONIO'S PIZZA
122 BAY ST
GLENS FALLS, NY 12801
518-745-1111
Pizza, Calzones, Homemade Italian Dinners. Lunch & Dinner. Open YR.
--------------------------------------------------------------------------------
BAY STREET CAFE
169 BAY STREET
GLENS FALLS, NY 12801
518-792-3812
Homemade Sandwiches, Soups & Desserts. Lunch. Open YR.
--------------------------------------------------------------------------------
BIG GREGG'S PIZZA
47 LAWRENCE ST.
GLENS FALLS, NY 12801
518-761-7177
Pizza, Italian Specialties. Lunch & Dinner. Open YR.
--------------------------------------------------------------------------------
BOSTON CANDY KITCHEN
21 ELM ST
GLENS FALLS NY 12801
518-792-1069
Homemade Candy; Breakfast & Lunch specials. Open YR.
--------------------------------------------------------------------------------
BURGER KING
GLEN & WARREN ST
GLENS FALLS NY 12801
518-798-9604
Value Combo Meals; 99 cent specials. Breakfast, Lunch, Dinner. Open YR.
--------------------------------------------------------------------------------
CROCK & BOULLE
88 RIDGE ST
GLENS FALLS, NY 12801
518-792-1121
American Cuisine; Breakfast, Lunch, Dinner. Open YR.
Website: http://www.queensburyhotel.com

--------------------------------------------------------------------------------
DAVIDSON BROTHERS REST/BREWERY
184 GLEN STREET
GLENS FALLS, NY 12801
518-743-9026
Sandwiches, Wraps, Pubfare. Brewpub Fresh Ales. Lunch & Dinner. Open YR.
Website: http://www.sayipa.com

--------------------------------------------------------------------------------
EAST WOK RESTAURANT
175 BROAD ST
GLENS FALLS NY 12801
518-745-5975
Eat In or Take Out Chinese Restaurant. Lunch & Dinner. Open YR.
--------------------------------------------------------------------------------
FENIMORE'S LOUNGE
88 RIDGE ST, QUEENSBURY HOTEL
GLENS FALLS NY 12801
518-792-1121
American Cuisine. Dinners. Open YR.
Website: http://www.queensburyhotel.com

--------------------------------------------------------------------------------
FIDDLEHEADS GOURMET DINING
21 RIDGE STREET
GLENS FALLS, NY 12801
518-793-5789
Chef Bill's Maryland Crab Cakes. Lunch & Dinner. Open YR.
--------------------------------------------------------------------------------
FITZGERALD'S RESTAURANT
39 LAWRENCE ST
GLENS FALLS NY 12801
518-792-9861
Burgers, Wings. Lunch & Dinner. Open YR.
--------------------------------------------------------------------------------
GOLD STAR at RIDGE HALL
18-22 RIDGE ST
GLENS FALLS, NY 12801
518-745-7400
Pizza, Italian Dinners, Deli & Lunch Specials. Lunch & Dinner. Open YR.
--------------------------------------------------------------------------------
GOURMET CAFE
185 GLEN ST
GLENS FALLS, NY 12801
518-761-0864
Cappuccino, Unique Sandwiches, Wine, Beer. Lunch & Dinner. Open YR.
--------------------------------------------------------------------------------
GREAT WALL KITCHEN
64 SOUTH ST
GLENS FALLS NY 12801
518-745-8400
Chinese Cuisine, Eat In or Take Out. Lunch & Dinner. Open YR.
--------------------------------------------------------------------------------
IDEAL RESTAURANT
60 SOUTH ST
GLENS FALLS NY 12801
518-792-9785
--------------------------------------------------------------------------------
JOLLY JOHN'S FISH FRY
133 RIDGE ST
GLENS FALLS, NY 12801
518-793-2013
Seafood Takeout. Lunch & Dinner. Open YR.
--------------------------------------------------------------------------------
LAKESIDE DOGS & MORE
46 SANFORD ST
GLENS FALLS, NY 12801
518-668-0207
Hot Dogs and more. Open June-Sept.
--------------------------------------------------------------------------------
MAIN MOON CHINESE
149 BAY ST
GLENS FALLS NY 12801
518-745-1643
Chinese Eat In or Take Out. Lunch & Dinner. Open YR.
--------------------------------------------------------------------------------
NEW WAY LUNCH
54 SOUTH ST
GLENS FALLS NY 12801
518-792-9803
Serving Our Famous Hot Dogs since 1919. Lunch & Dinner. Open YR.
--------------------------------------------------------------------------------
NORTH COUNTRY PIZZERIA
51 SOUTH ST
GLENS FALLS NY 12801
518-798-4523
Homemade Food & Desserts. Breakfast, Lunch, Dinner. Open YR.
--------------------------------------------------------------------------------
O'TOOLE'S RESTAURANT PUB
118 QUAKER RD, PO BOX 650
GLENS FALLS, NY 12801
518-793-3260
Steaks, Fajitas, Chicken, Ribs, Seafood. Lunch & Dinner. Open YR.
--------------------------------------------------------------------------------
PETER'S DINER
36 SOUTH ST
GLENS FALLS NY 12801
518-792-9772
Homemade Donuts, Homecooking. Breakfast, Lunch, Dinner. Open YR.
--------------------------------------------------------------------------------
PETER'S PUB
157 MAPLE ST
GLENS FALLS NY 12801
518-798-9863
Daily Lunch Special, Fiday Night Buffet. Lunch & Dinner. Open YR.
--------------------------------------------------------------------------------
POOPIE'S LUNCH
54 LAWRENCE ST
GLENS FALLS NY 12801
518-792-6155
--------------------------------------------------------------------------------
SAMANTHA'S PANTRY
11 BROAD ST AT UNION SQUARE
GLENS FALLS NY 12801
518-792-5839
Homemade Bake Shop, Deli; Catering. Breakfast & Lunch. Open YR.
--------------------------------------------------------------------------------
SAM'S RESTAURANT
23 DIX AVE
GLENS FALLS NY 12801
518-792-8222
Daily Breakfast & Lunch Specials. Open YR.
--------------------------------------------------------------------------------
SANDY'S CLAM BAR
41 SOUTH ST
GLENS FALLS NY 12801
518-792-9753
Clams, Seafood. Pub Fare. Lunch & Dinner. Open YR.
--------------------------------------------------------------------------------
SOUTHSIDE SUBS
187 SOUTH ST
GLENS FALLS NY 12801
--------------------------------------------------------------------------------
STEVE'S PLACE
194 BROAD ST
GLENS FALLS NY 12801
518-793-5855
Breakfast, Lunch, Dinner. Daily Specials. Open 24 Hours. Open YR.
--------------------------------------------------------------------------------
TALK OF THE TOWN
74 HUDSON AVE
GLENS FALLS NY 12801
518-798-3348
Italian-American; Daily Specials. Lunch & Dinner. Open YR.
--------------------------------------------------------------------------------
TERRIO'S DOWNTOWN EMPORIUM
196 GLEN ST
GLENS FALLS, NY 12801
518-793-8680
Steak, Seafood, Veal, Vegetarian Dishes. Lunch & Dinner. Open YR.
--------------------------------------------------------------------------------
THE BULLPEN
216 GLEN ST
GLENS FALLS, NY 12801
518-745-7811
Philly Steak Sandwiches; Sport Bar. Lunch & Dinner. Open YR.
--------------------------------------------------------------------------------
WAG'S NORTHWAY DINER
51 MAIN ST
GLENS FALLS NY 12801
518-792-9552
aily Homecooked Specials. Breakfast, Lunch, Dinner. Open YR.
--------------------------------------------------------------------------------
WALLABEE'S JAZZ BAR 190-194 GLEN ST
GLENS FALLS, NY 12801
518-792-8181
Located at Dinner and a Movie at Aimie's. Dinners. Open YR.
--------------------------------------------------------------------------------