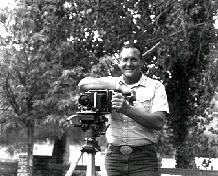 Photographer
Frank W. Houck


Please click here to enter the virtual gallery

A longtime member of the Professional Photographers of America, Frank specializes in landscape photography and has developed an affinity for the rugged Adirondack mountain wilderness.
Using a 4x5 Wista field camera for all of his work, his photographs have appeared in a wide variety of publications including Country, New York, Sierra, Adirondack Life, and Outside, as well as on two National magazine covers!
Eastman-Kodak/Disney World has also selected his photographs to be included in the permanent professional photographers exhibition at Epcot Center.
His prints hang in many private collections and are now being offered for the first time on the World Wide Web through a special arrangement with adirondacks.com.

Photographer
Frank W. Houck

Please click here to enter the virtual gallery